Swimming Pool By Day. Additional Event Space By Night!
Here is an idea for a backyard soiree of a different kind! We can extend your patio over the pool and create much needed additional space for your next soiree.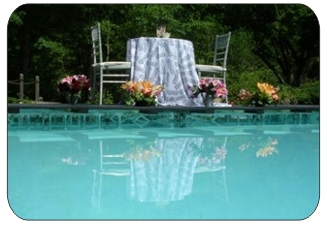 Create an inviting island paradise in the center of your pool. Add a couple of walkways, our clear acrylic floor, a handful of floating candles, safety rail, and décor of your choice, for an event your guests will always remember!
If you are looking to purchase a pool cover please complete our questionnaire on the "Contact Us" page, and we'll call you to discuss your options.